Exploration
Bolobip
Bolobip site is located around 300km west of Mount Hagen, and 50km east of Tabubil in the Western Province of PNG. The project area lies in remote mountains, set at the base of the Hindenberg Wall, immediately south of the Darai Plateau. The tenement covers elevations from around 1000m in the south, to 1840m at base camp, up to 2910m at the nearby Mt Faim.
Access is by air support only, and local infrastructure includes a 40 man field camp. Kiol air-strip lies around 3km to the west, and is available only to small fixed-wing aircraft and heli-support. The Ok Tedi mine site lies around 50km W in rugged terrain where the headwaters of the Fly River drain through steep gorges and spectacular waterfalls. Nearest road access is the Kiunga-Tabubil road linking Ok Tedi Mine Site to Kiunga Port.
The Bolobip area is noted for high rainfall with annual figures exceeding 12,000mm. The period of greatest rainfall occurs between June and August. Daily temperatures range from 15° to 20° with overnight temperatures falling to less than 10°. Tropical moss rainforest forms dense forest in most areas, which are often shrouded in fog.
Terrain is very steep and rugged with narrow streams, sharp ridges, and valley sides are often greater than 45°. Perched lakes, scree slopes and landslides are common.
Niuminco Pty Limited reached an agreement with Mincor on 22 October 2013, to terminate the Bolobip Joint Venture Agreement with the 36% interest Mincor had earned in the tenement being transferred back to Niuminco in exchange for Mincor earning a 5% net smelter royalty on all products extracted or sold from the tenement. The Bolobip tenement, held under exploration licence no. 1438, covers a total area of 320 sq.km, and encompasses a northwest regional transfer belt lying in parallel with comparable structural corridors that host the Porgera and Ok Tedi mines.
Mincor has spent AUD $3.1m on exploration of the tenement.  Mincor's exploration at Bolobip revived exploration in the area after a 14 year hiatus in field work. Since completion of field work by CRA in 1990 and Highlands Gold in 1996, little progress has been made in the understanding of the porphyry systems at Bolobip. The main focus for Mincor's exploration centred around the Koum Stock and detailed mapping of geology, alteration and structure was completed along with the execution of a heli-magnetic and radiometric survey.
Bolobip is located 300km west of Mount Hagen, about 50km east of Tabubil at an elevation of around 2000m. Access is by air support only and local infrastructure includes a 40 man field camp.
Mincor commenced field exploration in March 2012 and comprised detailed geological and alteration mapping, 2010m of benching, over 5800m of track and line clearing as well as bench channel, rock and float sampling.
Mineralisation model identifies economic potential for gold-copper deposition within the Koum Stock, within reactive and permeable country rock, and along structures as dykes and pipes, with excellent potential for large tonnage gold-rich porphyry copper stockwork mineralisation at depth. Bench 1 East hosts a consistent and open-ended 70m @ 0.86g/t Au, 440ppm Cu occurring as a window into mineralised monzonite porphyry at surface.
Although no contact is evident between mineralised monzonite porphyry and limestone at surface, there remains potential for skarn mineralisation where metal-rich aqueous fluids have contact with reactive limestone wall rock at depth.
The potential for discovery of economic mineralisation within the Koum Stock is considered significant and an initial 3 hole 900m diamond drill program is recommended. 

In November 2013, Mr John Nethery did a detailed review of all the historic data of the Bolobip project, and his report can be viewed here.
Project Summary
PROJECT: 320 sq.km, around 50km West of Tabubil and 120km NE of Kiunga Port.
TARGET: Gold-rich Porphyry Copper, gold-skarn, and telescope mesothermal-epithermal gold as porphyry stockwork, and steeply dipping mesothermal veins, dykes and pipes.
Footprint: 400m x 700m
ElevationRL: 1700m up to 2100m
Continuity: Major structures remain open at depth, possible leaching at surface of mobile metals, possible surface enrichment of gold in structures. Surface outcrops indicate the uppermost levels of a mineralised porphyry system surrounded by mesothermal gold-copper mineralisation overprinted by epithermal mineralisation and retrograde propylitic assemblage.
GRADE/TONNAGE POTENTIAL: Exists in three categories: porphyry, mesothermal-epithermal, and skarn. World class high tonnage porphyry potential.
PREVIOUS TESTING/RESULTS:  Low tonnage structurally controlled, steeply dipping , NNW and NE trending telescope mesothermal-epithermal sheeted veins, stockworks, breccia pipes/dykes including:
35m @ 1.27 Au, 226 Cu (incl. 10m @ 2.59 Au, 894 Cu) from CRA Bench 1W polymictic hydrothermal breccia outcrop, and
95m @ 1.28 Au, 521 Cu (Incl. 10m @ 2.15 Au, 338 Cu) from CRA Bench 3 breccia dyke gossan and polymictic hydrothermal breccia outcrop.
Large tonnage gold-rich Porphyry style stockwork mineralisation including a consistent and open-ended:
70m @ 0.86 Au, 440 Cu in CRA Bench 1E window into mineralised monzonite porphyry
GEOLOGY & MINERALISATION: Deep leaching of mobile base-metals, possible surface enrichment of gold in structures. Surface outcrops indicate the uppermost levels of a mineralised porphyry system surrounded by mesothermal gold-copper mineralisation overprinted by epithermal mineralisation. Magnetite-hematite alteration appears overprinted by retrograde propylitic alteration. Fluid pathways are dominantly along NNW regional faults and narrow secondary NE structures. Irregular Leach-cap and litho-cap type lithologies common at surface. Possible Au-rich porphyry character and commonly contain magnetite. Phyllic and argillic alteration can be inconspicuous. Potassic alteration can also be subtle as a K-felspar–poor, chlorite–rich assemblage. Mineralisation marginal to monzonite porphyry will be controlled by the accessibility and volume of reactive and permeable country rock. Mineralised magmatic hydrothermal breccias occurring as pipes, sills, and dykes remain noteworthy targets and skarn mineralisation also remains a significant target at depth considering proximity of plentiful limestone and interpretation of extensive thrusting in the region.
SURFACE POSITION: Roof and margin of a mineralised porphyry system, exhibiting telescoped mesothermal-epithermal veins, dykes, pipes within propylitic country rocks. Moderate phyllic and weak potassic porphyry character visible at surface. Centre of mineralised porphyry system expected 250- 700m below surface.
METALLURGICAL & GEOTECHNICAL CHARACTER: Untested.
ACCESSIBILITY: Heli-supported only. Excellent existing camp facilities. High rainfall area. EXPLORATION METHODS: Requires initial 3 hole 900m diamond drill program to assess potential. ESTIMATED COST: Phase 1 drilling all inclusive costing approx. AUD$0.5M. 
Licence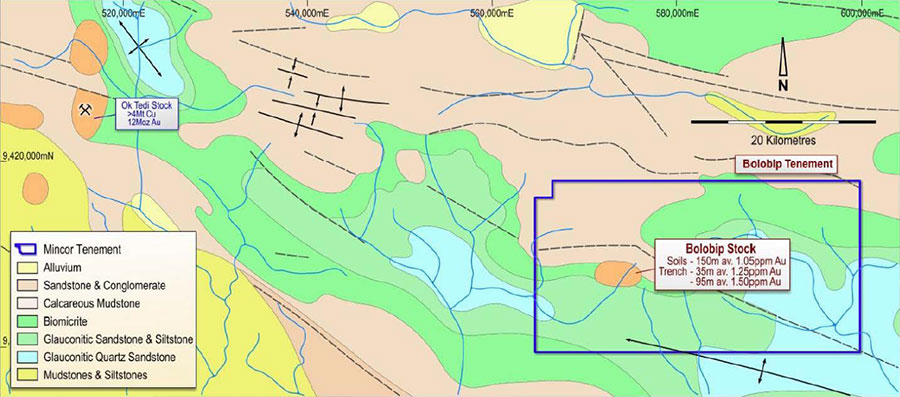 Comparison with Ok Tedi
Numerous comparisons are applicable between the Bolobip and Ok Tedi porphyry systems.
Ok Tedi is a late Pliocene monzonite-diorite multiple intrusive complex intruded into sedimentary rocks, generally comprising fine-grained clastics and a 300m thick massive limestone member. The Ok Tedi deposit contains gold-rich porphyry copper mineralisation as well as magmatic hydrothermal mineralisation styles controlled by the accessibility and volume of reactive and permeable country rock.
Copper and gold mineralisation at Ok Tedi is typical of many gold-rich porphyry (related) copper deposits in the circum-Pacific Island Arc Terranes. Most of the Ok Tedi porphyry gold and copper mineralisation occurs within a particular monzonite porphyry intrusive phase centred on Mt. Fubilan, measuring around 800m east-west by 900m north-south.
Subsequent leaching and re-deposition of copper minerals produced a leached cap and an enriched copper zone, which overlies sulphide mineralisation at depth. Significant residual gold mineralisation occurs within the leach cap, however, similar gold values extended downwards into the copper mineralisation in an annulus about a barren quartz stockwork core.
Mineralisation is associated with potassic alteration, characterised by biotite and lesser secondary alkali feldspar. A central area of intense quartz stockwork, about 250m long by 120m wide tends to coalesce into a plug like massive quartz body at its centre.
Gold values correlate well with copper in the primary sulphide mineralisation. Chalcopyrite is the dominant primary sulphide with lesser pyrite, marcasite, and minor molybdenum. Sulphides are fairly evenly distributed within the monzonite porphyry body as disseminations and veinlet fillings.
The distribution of primary copper mineralisation is masked to a large extent by deep leaching.
Copper grades within the leach capping are generally about 500ppm (0.05%) and gold values >1g/t and sometimes upward of 3g/t, also occur in the leached cap.
The leached zone passes downward to a sharp interface with the secondary copper blanket where chalcocite is the dominant mineral, replacing and coating chalcopyrite. Here, the formation of a major supergene enrichment occurs from depths ranging from 15m to 200m, forming a sub-surface blanket of thickness from about 50 to 300m. Enrichment zone copper grades are over 1%. The lower boundary of the blanket is more diffuse with a gradual transition from chalcocite and into primary chalcopyrite where grades of 2000-4000ppm (0.2- 0.4%) copper exist in fresh rock.
Skarn ore is developed where flat lying and sub-vertical faults locally controlled hydrothermal fluids and subsequent metasomatic alteration of the sedimentary rocks surrounding the intrusion.
Numerous skarn bodies occur on the margins of the intrusive complex. The best defined is the Gold Coast skarn, which is a semitabular massive magnetite calc-silicate body 10m to 150m thick dippings steeply to the west.
The massive magnetite contains copper grades of 1.5% or more, and the intrusive and calc-silicate rocks on the hanging-wall side are also mineralised.
1km Diameter Copper anomaly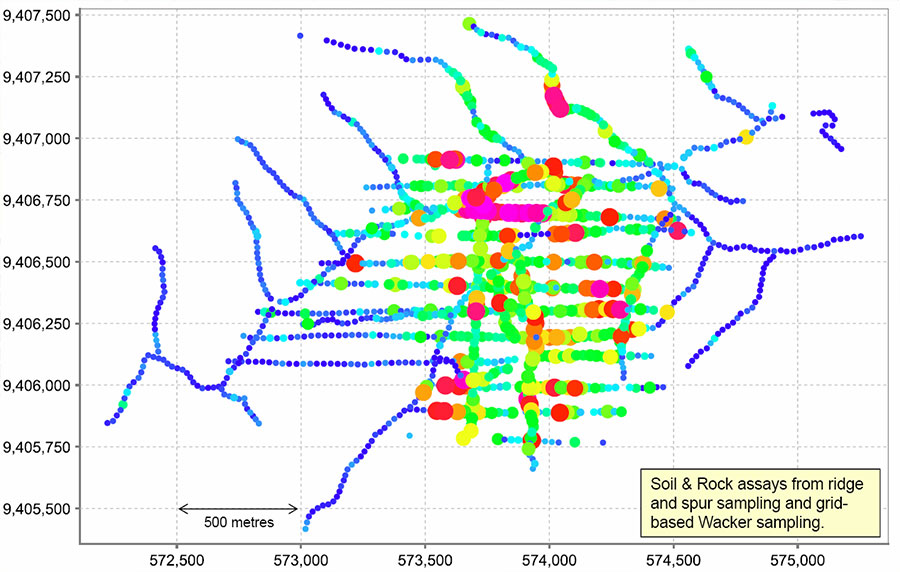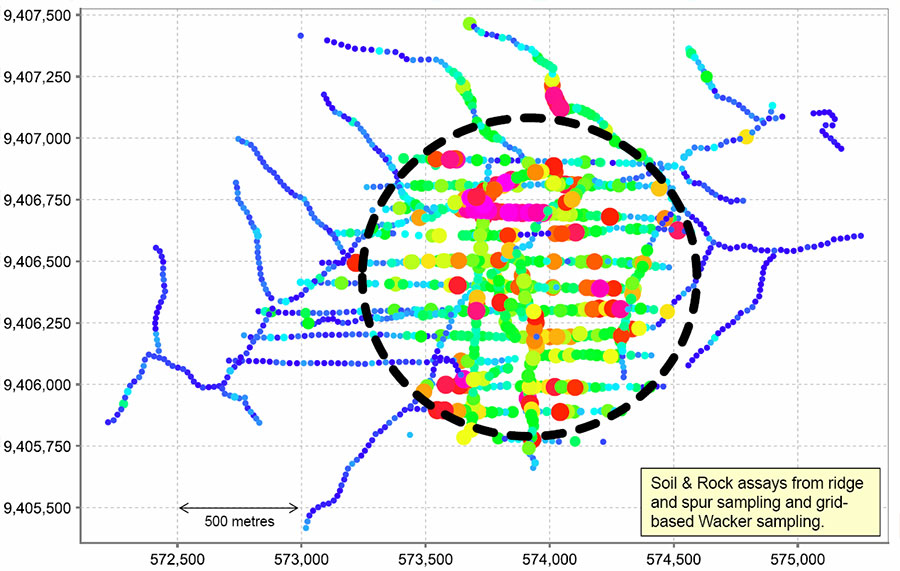 Co-incident Gold Anomaly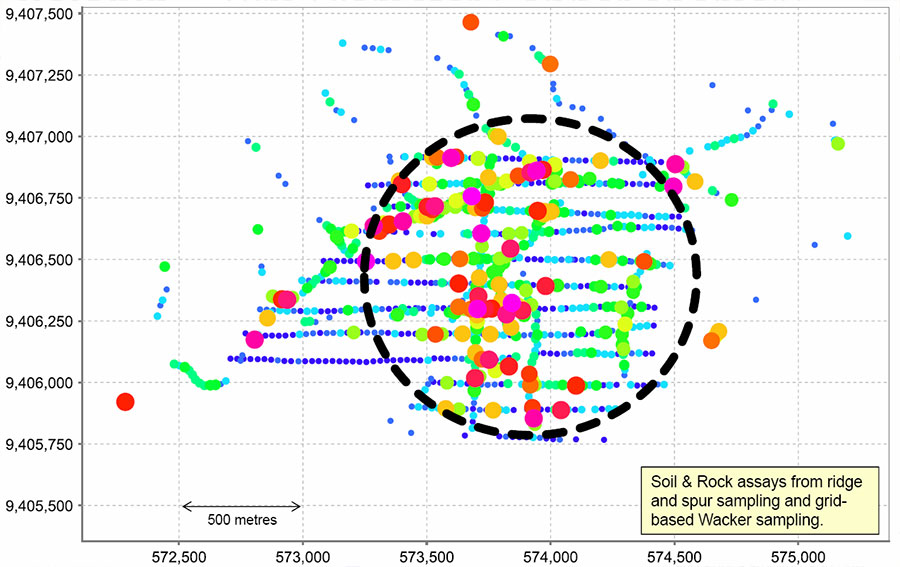 Rimming Zn-Pb-Mn
Provisional interpretation:
1km x 1km Copper-Gold anomaly = leached cap above mineralised Copper-Gold Porphyry body
Typical development of peripheral zinc-lead mineralisation
Typical epithermal gold mineralisation through centre
Xenoliths suggest ground surface is near the top of the system